WagerWeb Review
WagerWeb Racebook is simply one of the the best options for today's horse player. Offering great betting value, same-day payouts, unmatched cashback rewards, deposit bonuses, superior 24/7/365 customer service, and all the major races you want to bet, WagerWeb Racebook is in a class by itself when it comes to meeting the needs of the horse player.
"I had a question about my account, and all it took was one phone call to get the answer." -B. Phillips
WagerWeb Racebook: In a Nutshell
Ongoing Deposit Bonuses – Both long-time account holders and new customers are eligible for a bonus with every cash or credit card deposit!

More Tracks, More Wagering – Wagering is available on more than 65 tracks in both the US and overseas, along with all bet types, from straight Win to exotics.

Racebook Rebates – The more you play, the bigger the rebate, up to 13% on volume wagered, with weekly payouts every Tuesday afternoon.
Betting Features on WagerWeb
WagerWeb Racebooks bonus program offers its players between 7% and 13% rebates depending on the investment level of each player. The more you play, the more WagerWeb Racebook pays. The rebate points you earn can be cashed into your free play account or used to purchase merchandise.
Customer Service

WagerWeb Racebook's customer service is second to none. Available 24/7/ 365 days a year, WagerWeb is always ready to assist by email, telephone, or web chat. Whatever your needs may be, a WagerWeb account representative is waiting to assist you live in English or Spanish.

Deposit & Payout Options

Deposting at WagerWeb is hassle free and can be made via credit card, Western Union, Skrill or E-Z voucher with a minimum deposit amount of $50. When you use Western Union, WagerWeb will refund any fees you may incur on deposits greater than $250. In most cases, deposits will be reflected immediately in your account. For each deposit, new and existing customers are eligible for a bonus of 10%, 20%, 30%, or up to 50%.

Thoroughbred Horse Betting Odds

The best feature of WagerWeb Racebook may be the unique betting value it passes along to its players. Every horse player has had the deflating experience of watching the odds of their wagering interest shrink as other players "bet the horse down" from its morning line odds through the pari-mutuel pool. WagerWeb offers players the chance to "lock in" those morning line odds and take full advantage of their opinion. When this feature is compounded with the rebates and deposit bonuses already offered at WagerWeb, the horse player is realizing extraordinary betting value unmatched anywhere else in the industry.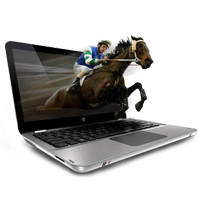 WagerWeb offers a...
...20% bonus on cash and credit card deposits!
Make a minimum deposit of $50 and and you're eligible for the bonus!
Deposit & Claim Bonus!