Bovada Racebook Review
The Bovada Racebook was created a few years ago specifically for U.S. horseplayers. Not only does the racebook offer horseplayers the ability to wager on over 60 North American tracks, but the Bovada Racebook also offers a 50% Welcome Bonus on Head to Heads, Triple Crown, and other Summer Racing props, 24-hour customer service, Fast and Free Payouts, and a 5% Rebate on all exotic wagers.
"No other site offers the reliability and rebates that Bovada does. Nobody." - M. McIntyre
Bovada Racebook: In a Nutshell
Wagering Rebates – Horseplayers get 3% back on straight win, place and show wagers and 5% back on all exotic wagers like exactas, trifectas and superfectas. Not all racebooks offer great rebates like Bovada.

Free and Fast Payouts – The Bovada Racebook offers fast payouts so that horseplayers don't have to wait too long to get their profits and there's also a monthly free payout program, which is a big advantage to horseplayers.

24-Hour Customer Service – The Bovada Racebook team is on your schedule. They're open 24-Hours, 7 days a week, to help you make a deposit or withdrawal, listen to suggestions to help them improve, or answer any other questions that you might have.
Betting Features on Bovada
There are three criteria that we use when reviewing a racebook. The first is level of customer service. A racebooks customer service team has to be available to horseplayers on the horseplayers schedules. The second criteria are fair and multiple deposit and payout options. The final criterion is thoroughbred horse betting odds. The odds offered have to be race track odds and the payout limits have to be large enough to justify utilizing the racebook instead of going to the track.
Customer Service

The Bovada Racebook Customer Service team is available 24-hrs a day, 7 days a week. There are two ways to get a hold of Customer Service at Bovada. The first way is to send an email. All emails are answered within 4-hrs after Customer Service receives them. The other way is via Bovada's toll-free number: 1-888-263-0000.

After a few phone calls, it's obvious to us that Bovada's customer service team is fast, friendly, and not afraid to find an answer. We tested the 24-hr claim and, sure enough, they picked up the phone call and answered our question.

Deposit & Payout Options

Bovada only accepts VISA for credit card deposits. Horseplayers can use Rapid Transfer and Bovada picks up the fees at deposits of $300 or more. When it comes to payouts, Bovada has an excellent program. They offer a free payout per month up to $3,000. If you request anything beyond $3,000, they will send you checks up to $3,000 every 5 to 7 business days but you will be charged a fee for each one of those checks.

You can request a payout via Rapid Transfer, but our suggestion is to withdrawal $3,000 per month for free.

Thoroughbred Horse Betting Odds

The Bovada Racebook offers race track odds, but has limits regarding race payouts. We don't have a problem with that because the max payouts per race are massive. For example, you could win up to $30,000 on Bovada's Category A tracks and up to $50,000 on a special race like the Kentucky Derby.

The Bovada Racebook advantage to horseplayers is the 5% rebate on exotic wagers. Horseplayers know that putting together exotic wagering tickets, like trifectas and superfectas, takes a large investment. Getting 5% back on every losing exotic wager ticket can really help a horseplayer's bottom line.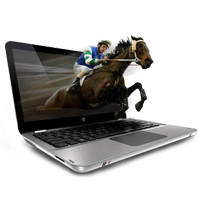 Bovada offers a...
...50% bonus on your 1st Deposit!
Make a minimum deposit of $20 and get your sign up bonus instantly!
Deposit & Claim Bonus!