BetOnline Racebook Review
For horseplayers who want to get the most bang for their buck, BetOnline Racebook is one of the top destinations for online wagering. With numerous rewards, rebates and wagering incentives, BetOnline Racebook is an industry leader in making wagering on top Thoroughbred and Standardbred action from across the country easy, fun and profitable. With numerous wagering options, BetOnline Racebook allows horseplayers to get in on the action in a variety of different ways .
When I was learning to handicap, the head-to-head matchups in races gave me an easy way to test what I knew. Or thought I knew. - A. Lee
BetOnline Racebook: In a Nutshell
Daily Rebates– BetOnline Racebook offers a 7% daily rebate on all internet wagers. For those who play by telephone, they will receive a 4% daily rebate.

No Limits or Minimums – With BetOnline Racebook, there is no limit to how much a player can earn and there are no minimum volume requirements necessary..

Handicapping Tips – BetOnline Racebook offers free horse racing articles by an industry expert that include handicapping insights, selections for upcoming races and race recaps.
Betting Features on BetOnline
Navigating the many different online wagering options can be more difficult than actually placing a winning wager. We take the time and do the research to make the search easy for you, the player. When we evaluate an online wagering platform, we utilize several key factors including customer service, user-friendliness as well as wagering value to find the very best.
Customer Service

BetOnline Racebook is dedicated to providing the best long-term, positive relationship with their customers as possible and promotes this within a safe and secure online gaming environment with top quality customer service. BetOnline Racebook offers a streamlined, user-friendly F.A.Q. page to answer any basic questions. In addition, there are customer service representatives available 24 hours a day, 7 days a week and they can be reached via a toll-free number or through several different email addresses. In either case, they are available to answer and assist with any questions.

Deposit & Payout Options

With BetOnline Racebook, making deposits or withdrawals is safe, secure and easy. They offer one of the largest and most comprehensive deposit and payout options in the industry. Deposits can be made via major credit cards like Visa, Mastercard, Discover or American Express as well as by Bitcoin, Skrill, Neteller, Book to Book and through person to person transactions or Bankwires. Payouts can be made in person to person transactions, Bankwires, checks, as well as Bitcoin, Skrill, Neteller, Book to Book. All of these options have low minimum requirements and offer quick turnaround times.

Thoroughbred Horse Betting Odds

BetOnline Racebook offers full track odds for all Thoroughbred and Harness races available up to max payouts per race which makes wagering with them a smart choice to get the most value out of your investment. Coupled with the enticing rebates of 7% for online wagers and 4% rebate on wagers placed on the phone, BetOnline delivers with industry-leading value. There are, however, maximum net profits allowed per race which are set individually for each track at a generous amount. BetOnline also offers exciting future wagers, prop bets and matchups which are often taken from the best races at the major tracks. All of this is available from the comfort of home through a computer, phone or mobile device.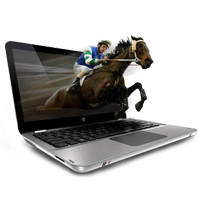 BetOnline offers a...
...25% bonus on your 1st Deposit!
Make a minimum deposit of $50 and get your sign up bonus instantly!
Deposit & Claim Bonus!